DREAM PILLOW
As a part of La Touche, our Dream pillows own the message of healing through peaceful dreams. There are various situations in daily life that you give too much pressure to your eyes such as working long hours with your laptop, keeping your eyes on the phone' screen continuously, reading on moving vehicles or in the dark. By pressuring your eyes, it not only tires your eyes but also could negatively affect your health and can catch the feeling of headache and dizziness. Over a long time, it will reduce or even damage your eyesight.
While making the Dream pillow, we strive to make something that could not only help to relax your eyes but also remind you to treasure the window to your soul. We hope you could practice some small habits in daily life such as spending some minutes during work to give your eyes a break, limit devices before bed time or reading under good light conditions and avoiding reading while on a moving vehicle.
Our Dream pillow can be applied flexibly not only on the eyes but also on your shoulders and on your neck. We introduce different Dream pillow options in both scented and unscented materials. While the scented line is the best option for fragrances lovers, the unscented one is a perfect choice for people who are sensitive to the smell, especially pregnant women.
As this is also a sustainable product, we choose the best natural materials from the linen fabric to the herbal core inside our Dream pillows. The design of the pillows allow them to be removable and washable. You can also refill or renew the core material inside the eyes bag when the scent has faded away.
Please put the eyes pillow in the freezer for 30-45 minutes for cold use or heat up in the microwave for around 30-45 seconds for warm use.
Used dimension: 25x12cm
Weight: 250-300g
Fabric: Linen (we pre-washed the fabric once before making) 
Our materials:
LAVENDER fragrance helps to relax your body, reduce anxiety and stress as well as promoting calmness and wellness.

ROSEMARY scent can help to improve your emotion and mental health by lowering stress hormone cortisol in your blood. Inhaling the aroma can fight respiratory infections because of its antiseptic properties.

JASMINE contents antibacterial properties. Its scent affects to your feeling that makes you feel more positive, energetic, and romantic.

The natural oil content from FLAXSEED benefits for your skin and refreshes your vision.

 RICE helps to increase the feeling of balance by its weight while not affecting the benefits of other materials.

The thick texture and structure of SEMEN CASSIAE seed offer meridian acupoint massage to treat medical conditions like dizziness, insomnia. In addition, Cassia seed extract can help alleviate stress and anxiety, which improves the quality of sleep.
Feel the recovery from aromatherapy.
Relaxation (Blue):  roasted

Semen Cassise, Flaxseed, dried Jasmine

Peace (Pink): dried Lavender,

Flaxseed, roasted Semen Cassiae

Healing (Green): dried Rosemary,

Flaxseed, roasted Semen Cassiae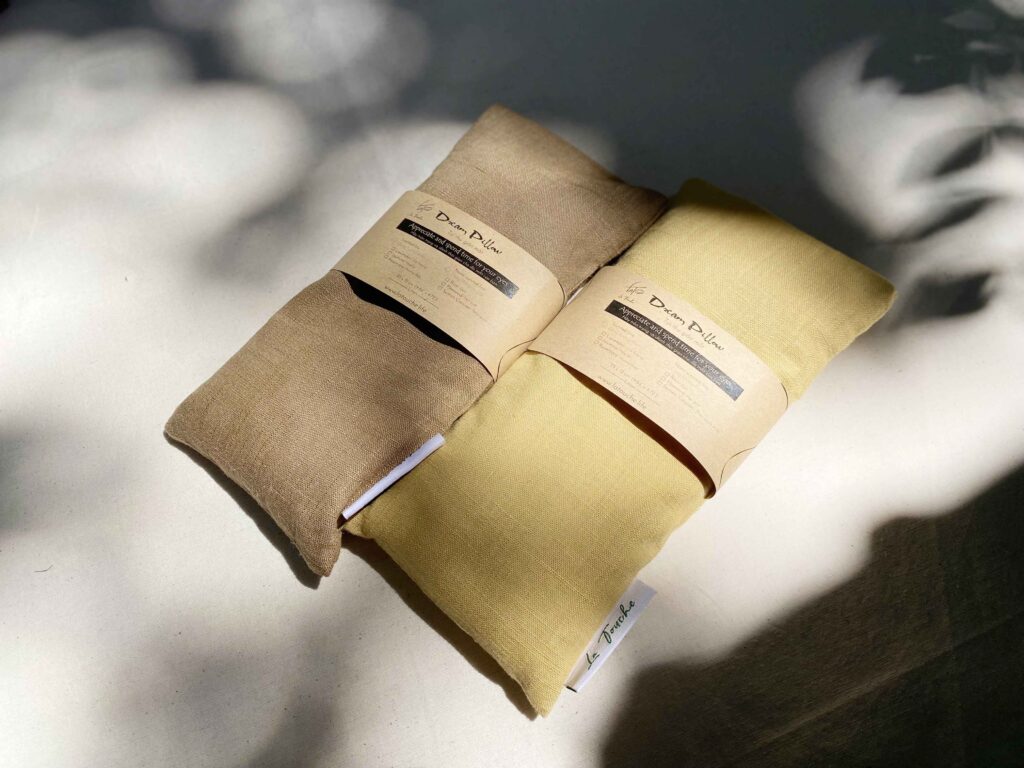 Feel the goodness from NATURAL seeds – grown by water, soil and sunlight.
Goodness (Yellow): roasted Semen Cassiae, Flaxseed

Balance (Brown): Rice, roasted

Semen Cassiae, Flaxseed